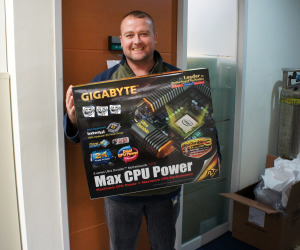 No, that is not a "little person" holding a motherboard (he's not related to Ricky Gervais either), but rather the Deputy Director of motherboard marketing here at GIGABYTE, Tim Handley.
There's no word on the official specs yet either, although we've heard rumblings about on-board SSDs striped together in RAID 0 configuration, as well as an army of solid state capacitors. Heck, given the size of the box, maybe it will even feature flux capacitors.
Please visit Bit-tech HERE to find out more about this mysterious board.